FOR SALE

MANDALUYONG CITY
ACQUA PRIVATE RESIDENCES

2 Bedrooms, 3 Toilet & Bath

Balcony / Terrace with garden

For Sale or Lease

Php18,000,000

CITY OF MANILA

Crown Tower University Belt

G. Tolentino St., Sampaloc, Manila

Studio with Balcony, furnished

Php3,500,000

CONDOMINIUM

MAKATI CITY

Makati Palace Hotel


Burgos St., Makati Ciy

Studio
Floor Area: 28.85 or 310.43 sq.ft.
1 Toilet and Bath, Furnished
Php3,600,000
Read more...

FOR LEASE / RENT

FOR LEASE / RENT

CONDOMINIUM /

MAKATI CITY
KL MOSAIC TOWER

STUDIO with partition/1-Bedroom

Legaspi Village

Php45,000/month

COMMERCIAL/

OFFICE

MAKATI CITY
The World Centre

Whole floor office space

Floor Area: 741.90 sq.m (7,982.844 sq.ft.)

Php1,200/sq.m./month + VAT + Dues

For Lease

CONDOMINIUM

MAKATI CITY

Mosaic At Greenbelt

Trassiera Street, Legaspi Village, Makati City

1-Bedroom Loft, 2 Toilet and Bath

Fully- Furnished

CONDOMINIUM

MAKATI CITY

The Residences At Greenbelt (TRAG)

112 sq.m. 2-Bedroom, balcony in BR

2 Toilet and Bath

Parking

Fully- Furnished

SEMINAR VENUE

Salcedo Village, Makati City

Seminar Venue for up to 40 people

For Seminars, Trainings, Marketing Promotions, Review Classes, Mock Exams, Lectures, Orientations, Meetings, etc.

Read more....




REAL ESTATE CONCERNS



FINDING YOUR PROPERTY.
EVERRA Real Estate helps you FIND properties for SALE and for LEASE/RENT all over the Philippines.

SELLING OR LEASING OUT.
We also help SELL or LEASE OUT properties in Makati City and Bonifacio Global City.

DOCUMENTATION.
We help transfer titles for you, for property/ies you bought.

 
Buying a home might just be the largest investment you will ever make.
Shopping for a house is filled with excitement, yet when the final decision needs to be made, it is normal to feel anxiety or apprehension. As a home buyer, you have a lot of questions and a lot of important decisions to make.
SELLING OR RENTING OUT YOUR PROPERTY? Click
HERE
.
EVERRA Real Estate provides real estate solutions to customers through our services – selling or purchasing resale properties, leasing or leasing out, buying developer projects, and joint ventures, among others. Together with our team, we have at our fingertips a network of more than 4,000 other licensed real estate brokers who help us with your real estate requirements. At EVERRA you work with real people dedicated to the real estate profession. We do not hide our identities so you know who you are dealing with. We take pride in our trustworthiness and hard work. Just send us an E-mail or Contact Us and we will get back to you. EVERRA Real Estate. Your online real estate solution.
Subscribe in a reader

MAKATI CITY

AVIDA TOWER 1 SAN LORENZO

1-Bedroom, 1-Toilet and bath

Fully- Furnished

For Sale

Php6,200,000

QUEZON CITY
Wil Tower Mall

2-Bedroom
Floor Area: 54.20 sq.m

Fully Furnished
Price Sale ( Php ): 12,000,000
Read more...

QUEZON CITY
TOUEI INNOVATIVE HOUSE

Lot Area: 260 sq.m

Floor Area: 320 sq.m

4-Bedroom

3 Toilet and Bath

Price Sale: Php29,600,000

MAKATI CITY

House and Lot

Lot Area: 130 sq.m
Floor Area: 260 sq.m

MANILA CITY

Lot Area: 70 sq.m
Floor Area: 326 sq.m
Price Sale (Php): 5,000,000

Code: BL-02
Contact Us

PARANAQUE CITY

Lot Area: 480 sq.m
Floor Area: 599.40 sq.m

Price Sale (Php) : 17,154,840

Code: BL-03
Contact Us

PASIG CITY

Lot Area: 99 sq.m
Floor Area: 130.50 sq.m
Price Sale (Php): 6,000,000

Code: BL-06
Contact Us
PROPERTY INQUIRY FORM
Please completely fill out our form below to help us know exactly your requirement/s. We may also service properties in other areas within Metro Manila. Make sure to enter correct e-mail address and contact details to get our reply. Thank you.
WHO WE ARE AND WHAT WE DO
FOR LEASE / RENT
BUYING REAL ESTATE?
We offer help to local and international investors look for condos or houses and lots in Metro Manila especially in the vicinity of Makati City and Fort Bonifacio Global City in Taguig, Metro Manila.
Everra Real Estate aside from general real estate brokerage also engages in project selling for major developers like Ayala Land, Inc. (Ayala Land Premier, Alveo Land Corp., Avida Land Corp.) Vista Land Corp. (Crown Asia, Brittany Corporation, Polar Mines Realty Ventures), and others.
Integrity, professional service, courtesy, and honesty-- these are the qualities we give to our clients. We strive to make your experience of buying or selling real estate in the Philippines a happy one. Your satisfaction is our business.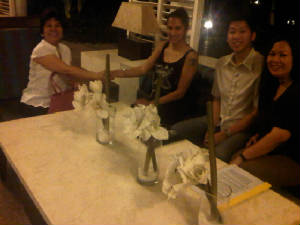 Another successful transaction by EVERRA Real Estate