Park Terraces – Reshaping the City's Skyline
Through the decades, Ayala Land Premier's progressive urban planning and world-class standards have kept Makati up-to-date with global standards and lifestyles.
The city has certainly grown into a top tier financial district that merges residential and commercial establishments with a wide variety of choices complementing diverse lifestyles. And with Ayala Center's recent redevelopment well underway, it continues to bring new energy to the city's luminescent skyline, whose structures have become markers of change, progress and diversity.
Adding to the renowned skyline is Ayala Land's latest residential enclave, Park Terraces. Situated at the heart of redeveloping Ayala Center, it offers premier living spaces, providing residents with all the conveniences as well as luxuries they need.
Creating a refined, urban lifestyle that offers the luxury of choice, Park Terraces presents a balanced mix of premium business and leisure establishments easily accessible to all its residents. Given its networked location and accessibility to the services and choices of Ayala Center, future residents' needs are taken care of and are perfectly complemented by Park Terraces' concierge services.
As our definition of urban living and diversity of choices evolve, and as the city begins to transform itself into one that fits the new decade, Park Terraces too, takes part in reshaping the luminous and vibrant skyline of Makati.
And with retail spaces, cafes, restaurants, and wellness outlets planned for the ground level spaces, and the easy access to all commercial establishments found within Ayala Center, the choices are truly limitless.
Park Terraces delivers top tier standards to an already bustling urban landscaped, shaped by Ayala Land. The Residences at Greenbelt which has redefined the high life; One Serendra which has made gracious suburban living possible within city limits and One Roxas Triangle which has taken luxury into every detail of the home — all of these have helped form Ayala Land Premier's strong reputation for delivering distinguished real estate to clients throughout the country and around the globe.
Park Terraces - Location Map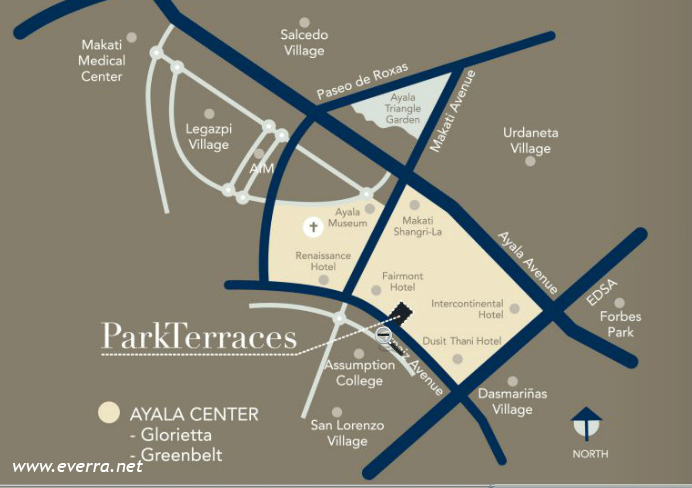 Located at the Eastern side is a park which also serves as a pedestrian access to Glorietta. Park Terraces' basement parking will have an underground connection to the basement parking system of Ayala Center. This gives residents the choice of multiple access points to and from main Makati City thoroughfares.

Establishments and Landmarks near Park Terraces:
• Asian Institute of Management
• Assumption College
• Landmark
• Rustan's Ayala Center
• Rustan's Express at Greenbelt
• SM Makati
• Sto Nino de Paz Church located at Greenbelt Park
• Philippine Stock Exchange
• Ayala Triangle Gardens


• Colegio De San Agustin


• Nearest MRT Station


• Makati Medical Center
• St. Luke's Medical Center in Bonifacio Global City
• Manila Golf Club
• Manila Polo Club
• International School Manila
• Manila Japanese School
• British School Manila
Building Features
• 40-meter wide motorcourt (to serve 3 towers)
• Multiple access points via the motorcourt and integrated parking connected, thru the underground parking of Terraces Square, to Glorietta
• Restaurants, cafes and other support retail in the ground floor
• Built-in sustainability features in units and common areas, i.e., motion sensors for lights in select common areas
Amenities and Facilities (to be shared by Tower 1 & 2 residents)
• Outdoor infinity pool looking into the park
• Podium garden
• Fully equipped and adequately- sized gym/fitness center
• Social hall flexible to handle medium or large events
• Smaller function rooms
• Indoor play area
• Resident lounge at the podium
• Centralized concierge
Makati CBD -- the preferred CBD

Ayala Land will do a major facelift of the Makati urban jungle to attract top locators to make Makati City their headquarters. Glorietta will completely re-develop as it becomes more Greenbelt than Greenbelt. Ayala Land has invested Php 20 Billion to make this happen.

Why Park Terraces?
Central location (major increase in land value)
Superior access (high rental rates)
Well-designed (upgraded facilities)
Mixed-used with residential and commercial (more premium)
Park Terraces – Point Tower
A Sparkling Finale

Elegant. Timeless. Distinctive. Park Terraces defines the Makati Skyline - a signature address in a singular location, nestled within the newest reincarnation of Ayala Center.

The third tower of Park Terraces completes Ayala Land Premier's signature enclave in Ayala Center. With its classic architectural lines, tasteful interiors, thoughtfully designed amenities, unsurpassed proximity to all that is important, truly it is a testament to living well. And in a time where urban green spaces have become rare, Park Terraces is alone in being embraced by two parks, Terraces Square and Palm Promenade. And as cafes line the ground floor of Park Terraces facing Palm Promenade, residents can truly appreciate the open space, energy and architecture of Ayala Center. Then, from a higher vantage point, one is presented with a variety of views ranging from city scapes to the water views of Manila Bay. In Park Terraces whether at ground level, or at the penthouse, each view is appreciable and special.
Park Terraces – Unit Availability
Point Tower
· Ph2-22G
· Ph2-34B
Tower 2
· PT2-12A
· PT2-33C
· PT2-38A
PROPERTY INQUIRY FORM
This form is for prospective buyers only. Please completely fill-up and we will contact you soon.
To receive notification on available units for lottery, please completely fill up form below.