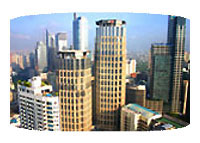 DEVELOPERS
EDSA Properties Holdings Inc. (EPhi), was incorporated on 21 October 1987. The Company is publicly subscribed and was on the Philippine Stock Exchange in April 1991. EPHI is a property development, real estate management and investment holding company.
EPHI owns 8.6 hectares of land which has been developed into a prime mixed-use commercial enclave. The property is strategically ensconced at the heart of Ortigas Center, a bustling and rapidly growing commercial and financial district in Metro Manila, and prominently marks a stretch of the Philippine's longest and best known national highway, the Epifanio de los Santos Avenue.
The Group's principal business includes leasing, mall and carpark operations, property investment and development and real estate management. Located within the Company's commercial enclave are the upmarket and well patronized EDSA Shangri-La Hotel and the Shangri-La Plaza Mall. Within the property, the Company also owns a carpark building that services the parking needs to Mall patrons and hotel guests.
In December 2000, EPHI enhanced its portfolio of properties with the acquisition of a 23.52% interest in KSA Realty Corporation which owns The Enterprise Center, one of the most modern and luxurious office buildings in the country. The Enterprise Center is located at the heart of Makati's Central Business District and includes amongst its tenants some of the most prestigious names in Philippine business.
In August 2002, EPHI entered into a Memorandum of Agreement with its associate company, Kuok Philippine Properties, Inc., to develop a luxury condominium called "The Shang Grand Tower". The project, located in the heart of the Makati Central Business District, will feature one, two and three bedroom condominium units. Construction began in October 2002 and is now ready for occupancy.
TOWER 2 HIGH ZONE
GROUND FLOOR PLAN
Tower 1 and Tower 2
VICINITY
Living/Dining Area
Flooring - Laminated Flooring
Wall - Painted finish with 4" wooden base board
Ceiling - Painted under slab

Bedroom
Flooring - Laminated Flooring
Wall - Painted finish with 4" wooden base board
Ceiling - Painted under slab

Kitchen
Modular Cabinet with Granite or Marble countertop
Wall - Ceramic tiles
Floor - Homogeneous tiles
Ceiling - Painted under slab

Bathroom
Ceiling - Moisture Resistant Gypsum Board
Wall - Ceramic tiles
Flooring - Ceramic tiles
Semi hung lavatory
Single lever faucet
Rain shower type for shower
Granite or Marble countertop
Elongated type water closet
The interiors, designed by BBGM of New York, are airy and spacious with large windows to showcase the spectacular views.
Cool sleek floor boards set the style with marble and granite detail. The units are designed for flexibility and there are many types to choose from. In addition, units may be combined and converted.
Property Inquiry Form
Please fill-up ALL FIELDS in form below so we can send you Payment Terms and Payment Schedule on your selected unit. Be sure to enter CORRECT E-mail address so we can reply. We will reply to serious inquiries with complete and correct information.