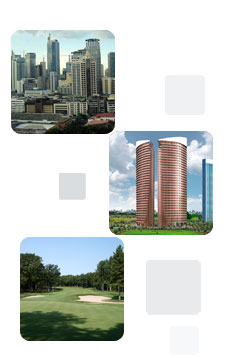 The Icon Towers I and II promises a 360° vista from their absolutely plush residential units—a pledge of full circle panoramic pleasure. Following the buildings' contours, the infinity shaped layout of each floor enables optimum view of the Manila Golf on one side and the breathtaking cityscapes on the other.
UNITS
Contact us for availability.
STUDIOS
36 sq.m. or 387.36 sq.ft.
1-BEDROOM
61 sq.m. or 656.36 sq.ft.
2-BEDROOM
95 sq.m. or 1022.22 sq.ft.
PAYMENT TERMS
Option 1
50-20-30
7% Discount on Unit Price
Option 2
30-40-30
4% Discount on Unit Price
Option 3
20-50-30
3% Discount on Unit Price
Option 4
10-50-40
TURN-OVER DATES
TOWER I
June 2009
TOWER II
December 2009
PAYMENTS ARE THROUGH AN ESCROW ACCOUNT
1. ESCROW ACCOUNT shall be with INTERNATIONAL EXCHANGE BANK.
2. All buyers' payments shall be deposited in said ESCROW Account.
3. The ESCROW Account shall only disburse for project related expenses.
4. The ESCROW Account shall only be closed upon project completion.
ADVANTAGES OF ESCROW ACCOUNT
1. All project revenues shall be channeled to project expenses eliminating the possibility that it be used elsewhere by the Developer resulting in project completion.
2. All buyers' payments are secured from Third Party claims.
Tower 1
Now For Sale
P33,000,000
CASH
We assist in Bank Financing
RESERVATION FEE
Deductible from Contract Price
Studio and 1-Bedroom: P25,000.00
2-Bedroom: P50,000.00
Penthouse Levels: P100,000.00
PARKING: Optional
Basement 1: P675,000.00 SOLD OUT
Basement 2: P650,000.00 SOLD OUT
Basement 3: P625,000.00 SOLD OUT
Basement 4: P615,000.00
Basement 5: P600,000.00
Notes:
1. Prices include E-VAT.
2. Buyer's Account: Documentary Stamps Tax, Registration Fees and Transfer Tax
3. All outstanding Balance shall be payable upon receipt of Turnover Notice.
4. Bank Financing may be applied on Balance.
5. Prices are subject to change without further notice.
EASY PAYMENT OPTION- ONLINE PAYMENT
Pay your reservation online through our secured payment option. Pay in the convenience of your home or office where there is internet connection. Bank transfer or credit card may be used.
PLEASE CLICK HERE.
Property Inquiry Form
Please fill-up ALL FIELDS in form below so we can send you Payment Terms and Payment Schedule on your selected unit. Be sure to enter CORRECT E-mail address so we can reply. We reply to serious inquiries with complete information.
Want to Know more about The ICON?
Click HERE.