Putting together the right elements to create a living space of your own.
The perfect living space contains the right balance of essentials for you to truly call it your own. Circulo Verde rounds out the elements that make staying here exceptional.
Freedom
You're sure to find your own personal space at Circulo Verde. Not only can you enjoy Circulo Verde's indoor spaces, you'll definitely fall in love with its generous outdoor spaces

Circulo Verde has appointed more than 8 hectares of its entire space to community parks, open spaces and roads. Designed to satisfy your need to embrace nature, each comes with its unique personality. Together, these outdoor spaces provide you with a multitude of possibilities to enrich your life.

Circulo Verde made sure that these outdoor spaces cover your every need – be it for recreation, interaction or introspection.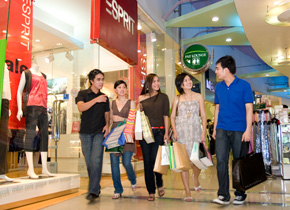 Enjoyment
The main town street concept rounds the Circulo Verde experience by providing a diverse mix of neighborhood retail shops. These afford residents with an exquisite rendezvous point that even non-residents would want to experience.

Staying true to its commitment to nature, our town street amenities incorporate natural landscape elements with modern architecture – allowing individuals, families and neighbors to interact and come together.
A Unique Living Environment

The diversity of options for living spaces provided in condominiums, contemporary lofts, and single family homes allows one to find his personal space.

A Refuge in the City

A haven and sanctuary from the hustle and bustle of city life located in the vicinity of active neighborhoods and business districts, it offers the choice to cocoon in one's private space, or to be in the whirl of city living.

A Sustainable Community

The combination of retail and neighborhood facilities create a community that is self-sustaining.

These facilities are envisioned to grow into vibrant commercial destinations for people outside the community.

The integration of landscape elements with modern residential structures redefines community.

A Model of Green Architecture

While located in a predominant industrial area, the project is envisioned to provide residents with a vibrant and green ambience.

A thick foliage of trees shall create a buffer from industrial structures across the river.

Emphasis will be placed on recycling, conservation, and energy efficiency.
Home Overview Features Location
Offering Design Team Contact Us
Home Overview Features Location
Offering Design Team Contact Us